Find books in a particular Lexile band
To search for books within a specific Lexile range: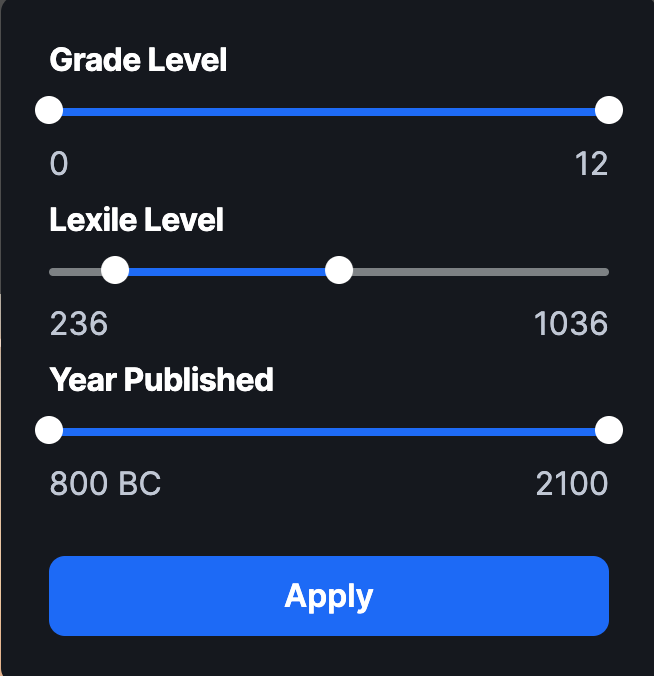 ​
Click the "Search" and access Literal's search page

Enter anything searchable in the search engine

Lexile bands are listed below the title in the detailed description of each book.




Click on "Filters" to adjust the Lexile range




You can also click on the left hand drop down to filter results by Lexile order
Related Articles

Find a title

Browse for books at read.literalapp.com Search for LIteral books using the "Search" feature on the top menu of read.literalapp.com Watch this video to learn how to add books to your class. Option 1 - Click in "Find your next read" Option 2 - Click ...

Unabridged books

All Literal books are unabridged. The chat format you see represents the full text from the book. The narrator's voice is on the right, and the characters on the left.

Search for a book

Learn how to add a book to a class here. To search for a book 1. Go to "search" on the top menu, it looks like a magnifying glass. 2. Enter a book title, author, character or the name of a cast you've created in the search bar 3.Use the Lexile ...

Assign or remove a book

Navigate to the class you want to assign the book to. Scroll to "Add or remove books for everyone to access" and click "Edit books." Search for books you want to add and click the small plus sign. You can assign multiple books at once. When you have ...

Find your Literal plan

You can find out what plan you're currently subscribed to by: Clicking on your profile picture Then clicking on "Profile" And then scrolling to "Current Plan" ? No Sound ?